Ronda Rousey is one of the best fighters of UFC. Her Skills on the ring is definitely from her judo background. By observing her we can say she is highly built with her intense workout. Ronda is the first American to win a World Judo Championship and struggled a lot to get there.
The formal UFC champion and superstar of WWE Ronda has been in the rumor of being in a relationship with UFC fighter Travis Browne in August 2015. Ronda is the third women in his life. Later on, April 20, 2017, Rousey and Browne announced their engagement.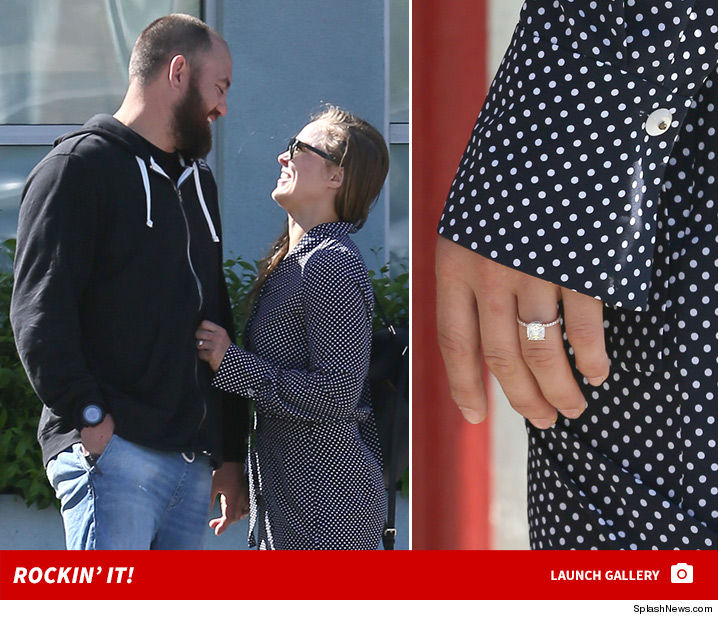 What Ronda and Travis think about the relationship, Let's see
While vacationing in New Zealand, Browne purposed Ronda underneath a waterfall with a large diamond ring. Browne says – Purposing her underneath waterfall was the right place to purpose her. They confirmed their engagement later in a statement to ESPN.
Rousey explains- "I don't talk about my personal life much. That's why it's called 'personal life.' It's true that Travis and I are in a relationship," she said at the time. "I've really enjoyed the time we have spent together and getting to know one another. And that's all I'm going to say about it."
Rousey defines their chemistry as "relationship", while Browne describes their romance in a matured way
"There is no girlfriend boyfriend stuff. Dating is for children; dating is for kids," Browne told The MMA Hour. "Ronda and I started talking throughout the summer, and I'll say now that we are together."
Browne, the perfect spouse, the perfect Husband
Rousey was having her worst nightmare. She was suffering from her loss against Holly Holm.
Rousey says –"When I looked up I saw my Man Travis.H e was standing up there. I looked up at him and I was like, I need to have his babies I need to stay alive," on The Ellen DeGeneres show.
Rousey continues "I literally thought to suicide after the loss with Holm. I told anybody except him. If he wasn't there for me, I couldn't have come out from that moment. We were meant to be together."
The Holy Day of their Relationship
It was not confirmed but later UFC president Dana White informed about their vows during an appearance on The Rich Eisen Show. Later Ronda Rousey and Travis Browne married in a perfect Hawaiian wedding.
Rousey and Browne have gone through their ups and down but still, they are holding their hands. They were destined to become couples.
Congratulation to these UFC happy couples for their upcoming days!