Hamish Macdonald is famous and one of the highest earning journalists in Australia. The 36-years old news presenter and journalist have worked on various stories like ayahuasca plant industry in Amazon, environmental degradation, Iraq war, Madrid bombings, conflict, human rights and solution, 2004 Tsunami in Asia, terrorism, 2005 London Bombings and programs like 'The Truth Is..', The project, ABC's The Drum and so on.
Hamish Macdonald poses for photgraph for TEN
Source:- tenplay
Upon his graduation from Charles Strut University, he started his career reporting for Australian regional broadcaster WIN. Then, he worked as news producer and reporter for channels like Channel 4, and ITV in the UK. He also worked for the channel TEN, Al Jazeera International and ABC.His works for the Al Jazeera English was crucial in launching him to stardom as he was awarded Young Journalist of The Year award.
Currently, he is working for as presenter for network ten (or TEN)'s 'The Project' and ABC.
Macdonald is recipient of Young Journalist of the Year award in 2008. In 2012, he was declared as Media Personality of the year. In 2012, he was awarded Walkley Award and a Human Rights Television Award for his investigations into people smuggling on 'The Project'.
Recently, he grabbed worldwide attention for his slip while hosting 'The Project' with Leah Costa and Eden Schwencke.
Relationship and Marital status of Hamish Macdonald
Hamish Macdonald is one of the hottest news presenters and broadcasters in Australia. He is the news hearththrob of millions of girls not only in Australia, but worldwide.
He is tight lipped about his relationship status, family, love life and other personal details. His social media includes details only about his professional life and career. There is no mention of romantic relationship in his twitter.
Not much details about his parents and siblings have been known. In an interview, Hamish revealed that his parents ran pharmacy.

"We could ski by the time we could walk. Mum and Dad ran pharmacies and you were either inside helping them or out on the snow." - Hamish Macdonald

His older brother Rory works producer and reporter with ABC Radio Sydney. And, his older sister Kari Keenan works as ia producer for 2UE.
It is widely assumed that Hamish is bachelor and hasn't been engaged or married to anyone.It is assumed that he doesn't have any girlfriend.
Relationship rumor of Hamish Macdonald
Since Hamish Macdonald doesn't share his private and personal details, the are various rumors in the social media. Some rumor point to him being gay and some being bisexual. There is no exact information about his love life. It is said that since he is occupied in journalistic works, he doesn't bother to have relationship. He is 100% committed to journalism.
At one point, it was even speculated that Hamish was in a brief relationship with his 'The Truth Is..' cameraman Ben Emery. Since they were always seen together, it was rumored that they were in certain unconventional relationship.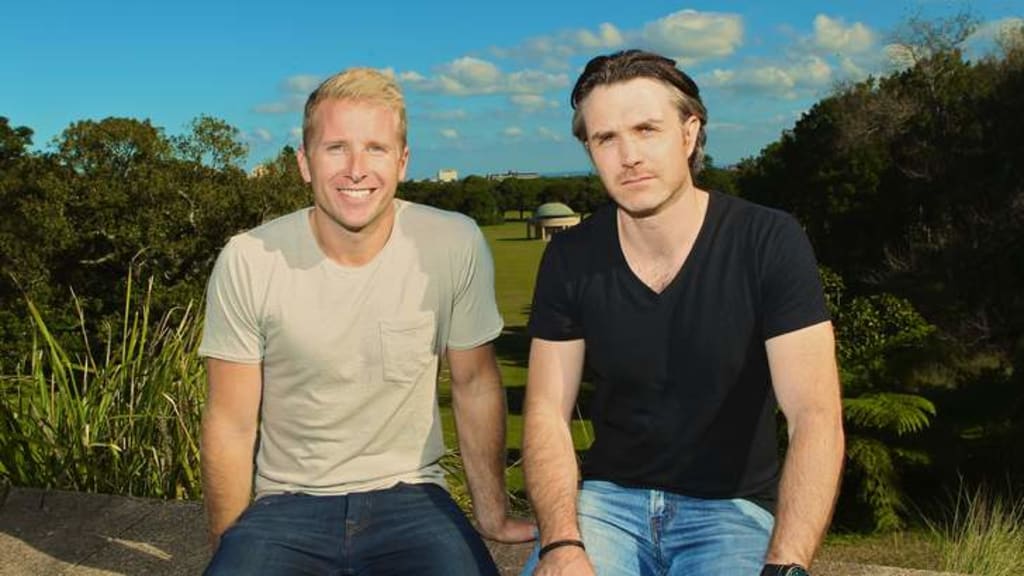 Hamish Macdonald photographed with Ben Emery for Sydney Morning Herald interview
Source: smh.com.au
They had met for the first time during Hamish's stint for regional channel WIN in Canberra. They later reunited in 2013 for 'The Truth Is.....'
In an interview with The Sydney Morning herald in 2013, it was known that Hamish and Ben had close relationship as fellow news producers. And, Ben has partner with whom he is content. Both Hamish and Ben have trusting relationship.
In early 2018, an unidentified twitter user speculated that Hamish was in relationship with unnamed woman, which surfaced in abc's website.
Hopefully, someday Hamish will reveal his love life and detail of his girlfriend / partner to us.