Canadian actress and model, Elisha Cuthbert married her long-standing boyfriend, National Hockey league star, Dion Phaneuf.
Best known for her role in the series 24 (2001) as Kim Bauer; Danielle in the teen comedy film The Girl Next Door (2004). They got married on 6 July 2013 at St. James Catholic Church in Summerfield, Prince Edward Island.It has been almost 5 years since they have got married, let's see how their married life is going on.
Elisha's relationship with her husband Phaneuf
Phaneuf and Elisha Cuthbert started dating in may 2008. After almost 4 years of dating, they announced their engagement in September 2012 and finally got married on 6 July 2013. The ceremony was held at St. James Catholic Church in Summerfield, P.E.I., while the reception was held at the couple's summer residence in New London.
Dion Phaneuf is a Canadian professional ice hockey defenceman. He had played for Calgary Flames, Toronto Maple Leafs, and Ottawa Senators. Currently, he is playing for Los Angeles Kings. Phaneuf is a three-time NHL All-star.
Elisha and her husband Phaneuf at their wedding.
source: Pinterest
They often post their photos on social media, having dinner or some snaps related to their anniversary. They posted their video of taking ice bucket challenge on social media. That shows their love towards each other. They post their pictures whenever they visit their relatives or goes out to the party.
Elisha Cuthbert's past relationship with Sean Avery
Cuthbert had previously dated Sean Avery, then- Dallas star forward. after their breakup, Cuthbert started dating Phaneuf.
Sean Avery once commented on NHL players such as Jarret Stoll who was dating her another ex-girlfriend Rachel hunter, fell in love with his "sloppy seconds." This comment was indirectly upon Phaneuf, who was dating Elisha Cuthbert at that time.
"I'm just going to say one thing," Avery said before his Stars played Phaneuf's Flames. "I'm really happy to be back in Calgary; I love Canada. I just want to comment on how it's become like a common thing in the NHL for guys to fall in love with my sloppy seconds. I don't know what that's about, but enjoy the game tonight."


Avery was suspended for six games because of that comment.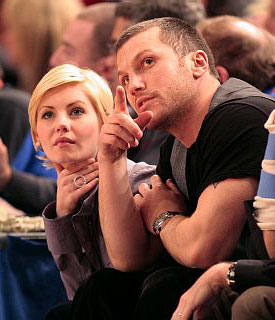 Elisha with Sean Avery
source: tribute.ca
Elisha's child Zaphire
Elisha Cuthbert gave birth to their first child, a daughter named Zaphire on December 21, 2017. they spend their summers with their child at Phaneuf's waterfront estate outside of New London, Prince Edward Island. Her daughter is almost half a year old and she might be in search of the perfect moment to share Zaphire's pictures.
Elisha and Phaneuf's visit to L.A hotspot
Phaneuf and Cuthbert were seen at an upscale restaurant-lounge Delilah in Los Angeles. she was glowing in makeup and had complimented her look with a suede maroon stiletto.
Phaneuf looked handsome and collected in an olive oil colored button-up and with dark jeans with tear at the knee.
cuthbert and his husband at a restaurant at L.A
source: dailymail.com