Constance Yu-Hwa Chung, professionally known as Connie Chung, is an American journalist. She has served as an anchor and reporter for news networks such as CBS, ABC, CNN, NBC, and MSNBC.
Short Biography: Age, Parents, Siblings, & Early Life
Chung is currently 74 years old. She was born on August 20, 1946, in Washington, D.C., USA, as Constance Yu-Hwa Chung to parents who had emigrated from China a year before her birth.
Her father, William Ling Chung, worked as an intelligence officer in the Chinese Nationalist Government. The youngest of ten children, she has four older sisters, having lost her five siblings during wartime. Among her four sisters, two of them are Josephine Chen and June Chung.
The 74-year-old spent her early years in Washington, D.C., and attended Montgomery Blair High School in Silver Spring, Maryland. Connie then enrolled at the University of Maryland to study biology before switching to journalism.
Connie Chung's Net worth& Salary 2020
Chung has a net worth of $20 million, as per Celebrity Net Worth. She served as a Washington-based correspondent for the CBS Evening News in the early 1970s before taking the role of an anchor at KCBS-TV.
The 74-year-old returned to NBC as an anchor in the early 1980s. Connie left the network in 1989 and joined CBS, where she hosted Saturday Night with Connie Chung and anchored the CBS Sunday Evening News.
However, Chung left CBS in 1995 when she was given a choice to resign or move to weekend anchor or morning anchor position following her controversial Oklahoma City bombing interview. She then joined ABC News in 1997 and served as a reporter on 20/20 and co-host for the Monday edition of the program alongside Charles Gibson.
The 74-year-old also hosted her own show on CNN titled Connie Chung Tonight for a short time, earning a $2 million salary per year. Additionally, she co-hosted a show called Weekends with Maury and Connie on MSNBC in 2006.
Meanwhile, her husband, Maury Povich, who earns an annual salary of $14 million, has an estimated net worth of $60 million. Both Maury and Connie's combined net worth is estimated at a whopping $80 million. The two reportedly purchased a 12,500 square feet house in the Kalorama neighborhood of Washington, D.C., for $9 million.
Who is Connie Chung married to? Her Husband & Children
Chung married talk show host Maury Povich on December 2, 1984, after dating for seven years. They first met in 1968 at the local TV station in Washington, DC, where Chung worked as a secretary while Povich was an anchorman.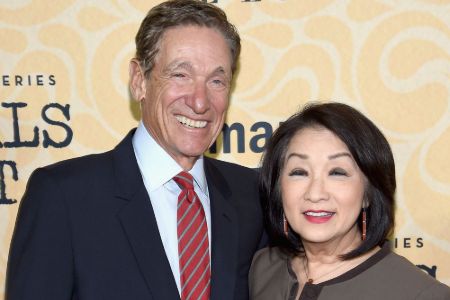 Connie and Maury have a son together, Matthew Jay Povich, who they adopted in 1995. According to Chung's IMDb bio, she was in a romantic relationship with actor Warren Beatty in the past.