Cameron Arthur Mathison is a Canadian actor and television host born on August 29, 1969, in Sarnia, Ontario. He joined the cast of All My Children (1970) in January 1998 as Ryan Lavery. He is an outstanding personality. Because of his attractiveness, many women love him and they are fascinated to know about his relationship. He is also known as the soul and heart of most of the women.
You May Like This: Hayden Szeto

So... this is happening right now?? Thanks to my wife for transforming our whole family and house into a Halloween Mecca. Happy Halloween everyone???????? #halloween #biteme #loveatfirstbite #vampirelove

A photo posted by Cameron Mathison (@cameronmathison) on Oct 31, 2016 at 6:04 pm PDT
Caption: Cameron and his wife happy in Halloween
Source: Instagram
Cameron Arthur Mathison's Married Life:

On July 27, 2002, Cameron Mathison got married to an American model Vanessa Arevalo and they are the parents of 2 children now. They are living a prosperous life. Unfortunately, Vanessa cannot continue her career in the model because she decided to give more priorities to her children rather than her career. This seemed like Vanessa is a caring mother.
Caption: Happy couple
Source: Gazing stars
Dating history of Cameron Arthur Mathison:

Previously Cameron had a relationship with actress Jennifer Esposito. They started dating in the year 1999. However, in the year 2000, they broke up with each other and decided to remain friends.
Although Mathison is the handsome guy, he did not have any dating stories with other celebrities. He provides equal of his time to career and family side by side. All the activities that he shows to his family define him as a decent husband.
Read More: Vladimir Kulich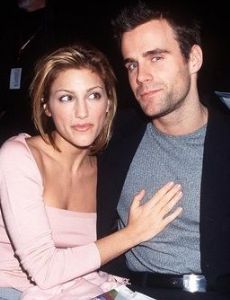 Caption: Cameron with Jeniffer
Source: Image4

Theirs Children:

Cameron and Vanessa had got 2 children. The names of their children are Lucas Arthur Mathison and Leila Emmanuelle Mathison who was born on April 20, 2003, and July 7, 2006, respectively. Cameron is also popular in social sites mostly on Twitter and Instagram.
A photo posted by Cameron Mathison (@cameronmathison) on Dec 25, 2016 at 10:23pm PST
Caption: Cameron Mathison's children happy in the snow.
Source: Instagram
He usually uploads pictures of himself with his family on Instagram, this shows how much the couple is in love with each other.
A photo posted by Cameron Mathison (@cameronmathison) on Oct 21, 2016 at 2:29 pm PDT