Adam Lazzara, a popular American singer who is known as lead singer of the rock band is also a musician as well as songwriter. He is really a multi-talented guy and knows to play guitar and harmony for the band.
source: tmakworld.com
caption: Adam Lazzara
We all know well about Lazzara's as a popular singer but few of you really know about his personal life. Let's find out deeper inside and find out about Adam Lazzara past life.
Adam Lazzara's first crush
The rock star, Adam Lazzara first love relationship started in the spring of 2006, while he was on a tour and met the guitarist of the band Eisley, Chauntelle Dupree. They truly felt in love during the tour and start dating in fall 2006 and engage on February 14, 2007.
source: i57.tinypic.com
caption: Adam Lazzara and Chauntelle Dupree
Wow, in such a short period of time this couple just finalize their life partner. Sound's really amazing, isn't it?
Adam Lazzara split off with Chantelle Dupree
Well, they were to be married in March 2008 and have a happily married life but something wrong did happen unexpectedly. It was announced by Chantelle's father in January 2008 that the wedding had been called off and that Chantekke and Adam had to split up.
source: Adam Lazzara and Chauntelle Dupree
caption: eisley.com
Oh no, why do this always happen to everyone when the couples are going to have a happy married life?
Lazzara's secret married life
As it is said that everything happens for good reason. Maybe this was true for these couples as well. So did just happen, one month after their split off with Dupree, Lazzara had a new relationship with Misha Vaagen(a local bartender who had been a family friend of the Dupree).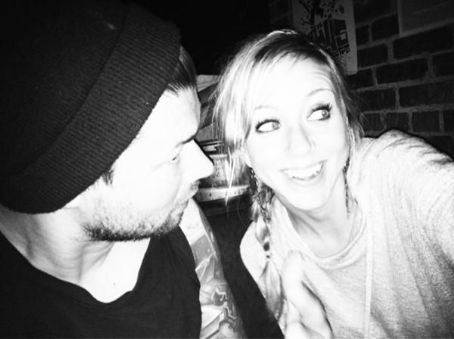 source: img5.bdphotos.com
caption: Adam Lazzara and Misha Vaagen
After knowing each other for five months, in June 2008, it was announced that Adam had married Misha Vaagen. Well, they have had a secretly married life. And according to the source, it is said that they are currently living in Charlotte, North Carolina.
One year later, in January 2009, Adam and Misha had their first kid named Keaton Ari Danger and second child in 2013, named Asa Joseph Danger.
Let's have the Instagram post of the two kids of rockstar Adam...
In this way, Lazzara has well managed to stay happy with his family and his great fans. We wish Adam a good luck and a successful career for his future. Good Luck Adam!!!