Aaron Murray one of the popular players of the National Football League (NFL) who has recently came into the public eye for his choice to stand down from engagement. He was engaged with Kacie McDonnell after being in the relationship for one year. This news was praiseworthy to read, however, most of the audiences are still in confusion about their relationship.
Few of the people know about Aaron and Kacie's engagement but they are totally unknown about what happened next to this couple, which, we will clear you here. For more facts about Murray's fiancée and his relationships & affairs with Kacie, scroll down below.
Caption: Aaron Murray and Kacie McDonnell
Source: dailymail.com
Aaron Murray's Fiance was engaged to Kacie McDonnell
As the news, about the engagement of Aaron Murray and Kacie McDonnell after one year of dating each other are already mentioned earlier. Both the couple started dating each other from the year 2013. Their bonding was such strong that Kacie McDonnell, a former Fox 29 traffic reporter had moved to Kansas City, Missouri, in August to be closer to Aaron.
After dating for one year, Murray proposed Kacie and she said yes, to which Murray was very happy which he even shared his happiness among his fan following in Twitter.
Aaron Murray cheated fiance, Kacie McDonnell
To be honest, a very bad news came to this Aaron Murray ended up his engagement to Kacie McDonnell. Public guessed that Aaron called off the engagement after two weeks of his elder brother Josh Murray come apart with his fiancée Andi Dorfman.
The earlier photos of Kacie and Aron, which was taken, while visiting likely wedding places earlier this month that was posted on Instagram has also since deleted.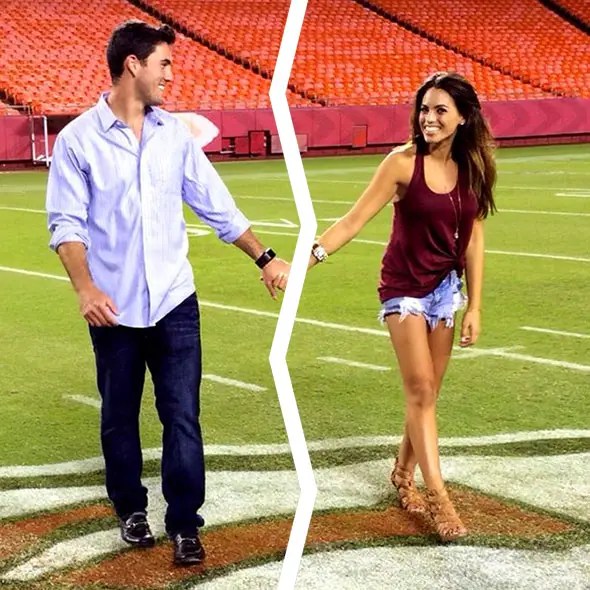 Caption: Aaron Murray Called Off engagement to Kacie McDonnell
Source:liverampup.com
Aaron's rumors of an affair with elder brother's fiance
Moreover, there are rumors of Aaron to have "a hooked up with Andi Dorfman who was former The Bachelorette contestant and was engaged to Aaron's elder brother, Josh." The newsflash about called off engagement of Aaron to Kacie comes two weeks after his older brother Josh broke up with fiancée Andi Dorfman with whom he met in the popular program called The Bachelorette.
Not only this, it is also known that Aaron and Andi hooked up with each other when Aaron was engaged with Kacie McDonnell.
In Philly.com Aaron's fiancée, Kacie has told, "The engagement is off. I wish him best for his future life. It's good to be apart and I am moving on with my life."
As per the Radar Online, Aaron and Kacie called off their engagement because Aaron hanged up with his brother's fiancée. From the source of Kacie's grandmother, Radar mentioned Kacie as saying, "Aaron know with what he did and he has to live with it."
After this statement, all things changed. All the pictures, tweets, links to the couple were deleted. Ever since they both do not talk to each other.